Special spring whale watching trips with Nancy Black
See trip description below videos.

See more videos below the following text.
Dates for 2024:

April 5, 6, 7, 8, 11, 12, 13, 14, 15, 16, 17, 18, 19, 20, 21, 22, 23, 24, 25, 26, 27, 28, 29 and 30.
May 1, 2, 3, 4, 5, 6, 9, 10, 11, 12, 13, 17, 18, 19, and 20.

There will also be 3-hour and 3.5 to 4-hour trips every day.

The cost is $155 per ticket (same price for adults and children). Reservations can be made by calling our office at 831-375-4658 or by reserving online.


A few photos from earlier trips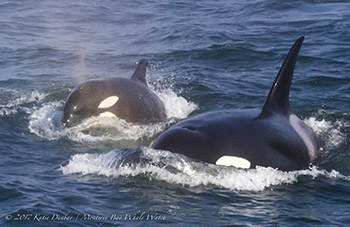 Killer Whales (April 1, 2017)
Photo by Katie Dunbar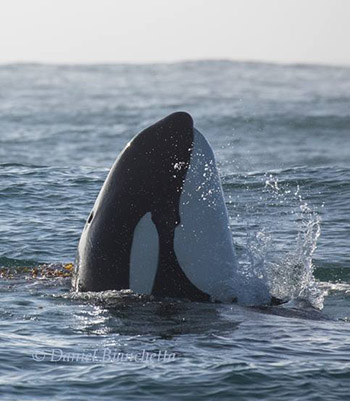 Killer Whale (April 1, 2017)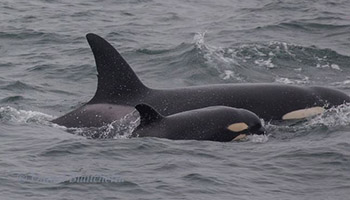 Killer Whales (April 2, 2017)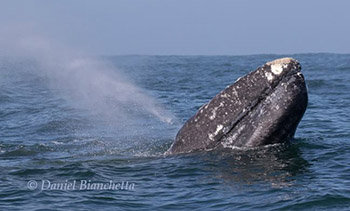 Gray Whale (April 3, 2017)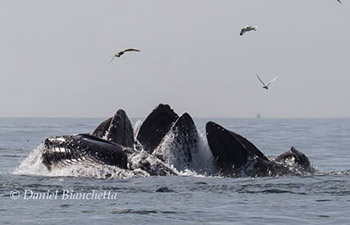 Humpback Whales lunge-feeding (April 5, 2017)
Photos © Daniel Bianchetta unless otherwise noted
About Killer Whale Season Trips
Again in spring 2024 at Monterey Bay Whale Watch, we are featuring all-day trips with Marine Biologist and Captain Nancy Black (and her dogs as co-captains)! Joining Nancy on many of these trips are members of the California Killer Whale Project (CKWP), Alisa Schulman-Janiger and Colleen Talty. Team members of CKWP have studied these Orcas off the California coast for more than 35 years, and know all the individuals and their family histories! There is no one in the Monterey Bay area who knows these Orcas better! On each of these trips we collect data which we analyze for family history, predation studies, and publications. Please check out the CKWP nonprofit website to learn more.

We hope you will join Monterey Bay Whale Watch on an extended quest for Killer Whales and other whale and dolphin species. Although there are no guarantees on Killer Whales as they have a large range, and are top predators that come and go throughout the area. However, they do frequent Monterey Bay more often than any other area along the coast during Spring. Although April and May are the peak sighting months for Killer Whales in Monterey Bay, they may be encountered at any time of the year. We typically sight Killer Whales about 2-7 times per week during this Spring period, as sightings vary annually. Humpback Whales are regularly encountered during this period, and possibly other whale species, as well as several dolphin species and a variety of other marine life.

These trips are of special interest to whale enthusiasts and photographers who want to spend extra time with whales, with more opportunities to observe a variety of their behaviors. This extended time at sea gives you the ultimate whale watch: to cover more area and search for a variety of species, with plenty of time to observe and photograph the animals we find. To provide quality viewing of the wildlife, we do not fill the boat to maximum capacity for these trips.

Killer Whales frequent Monterey Bay more often during these Spring months, mostly because they are searching for Gray Whale cow/calf pairs. The calves are the seasonal prey specialty of Killer Whales, although they are also looking for other marine mammals, such as Sea Lions, Harbor Seals, Elephant Seals and dolphins. We may witness such predation events on our trips and will spend extended time with the whales to observe these predation events, feeding, and social behavior. We are offering these extended trips multiple days in a row, as your chances to encounter Killer Whales and potential predation events increase with more days at sea.

"Killer Whales vs. Gray Whales" and "Humpback whales' attempt to stop killer whale attack" were produced by National Geographic and the BBC with Captain and Marine Biologist Nancy Black. Nancy was scientific advisor and National Geographic funded scientist during the research and filming for the first Blue Planet series, and the highlight of the series as noted by David Attenborough was the predation of Killer Whales on Gray Whales. That was the first time it was professionally filmed in 1998. This is an incredible event of nature involving the ultimate battle of whale against whale in a true struggle for survival. Nancy also worked with the BBC for several months during the filming for Blue Planet II which included incredible lunge-feeding Humpback Whales with Sea Lions. Our drone footage was also included. We have also included a video on this page of highlights of some Killer Whale sightings from previous years.
We do operate a drone on our trips, which is extremely useful for studying whale behavior and extensive scientific studies have shown that the whales do not even hear or notice these small non-intrusive drones. Whale researchers throughout the world are now incorporating drones in their research. Drones are allowed in the Monterey Marine Sanctuary and we only allow our crew to operate drones. We also use go-pros to capture any underwater events when whales may approach our vessel as well as hand held video cameras. We are collecting non-invasive data aboard these trips that contribute greatly to our long-term Orca project and have officially formed our non-profit called "California Killer Whale Project". We published the first California Killer Whale Catalog in 1997 and now have an updated version with family histories over four generations. We take interns along with us on these trips to help collect the data. It soon will be off the press and available to the public. Any photos and video we take during these trips are shared on our Facebook and Instagram.
Although the search for Killer Whales is the focus, they are not in the area everyday or we may not locate them every day. Nancy has become an expert in searching key areas and knows their travel routes within the area. We also get reports from other boats as well. These are natural history trips with a focus on whales and dolphins; we look at everything we see. Some days we may spend several hours travelling in our search for whales and other days we may find Orcas early and have most of the day with them. Each day is different but there are always some animals to watch. In the Harbor, we will likely spot Sea Lions, Harbor Seals and Sea Otters. A variety of whales, dolphins, porpoises, and seabirds occur throughout Monterey Bay. Monterey Bay is a very unique and special area which is bisected by the largest and deepest Submarine Canyon on the west coast and the only one that approaches so close to shore, allowing deep water species of whales and dolphins to occur relatively close to the coast.

In addition to Killer Whales, we also find other amazing wildlife. Humpback Whales arrive in Monterey in March, April and May to feed and spend Spring through Fall feeding along the coast with Monterey Bay as one of their feeding hotspots. Humpback Whales are the most aerially active of all types, often breaching, tail-lobbing, or pec slapping and they exhibit different feeding techniques including surface lunge-feeding under the right conditions. Several dolphin species occur also in Spring and year-round, including Pacific White-sided Dolphins, Risso's Dolphins, Northern Right Whale Dolphins, Long-beaked and Short Beaked Common Dolphins, Bottlenose Dolphins as well as two kinds of porpoise – Harbor and Dall's Porpoise. We also may encounter migrating pairs of Mom/Calf Gray Whales on their way to Alaska and even rare species such as Baird's Beaked Whales or Cuvier's Beaked Whales, all of which we have seen on our extended Spring trips in previous years.

These All Day Trips leave at 8:00 a.m. (7:30 a.m. check-in), and last for at least 8 hours (weather dependent). We are charging $155 per person, and do not allow children under age 12. A 6% Booking Processing fee is added to all purchases. If we encounter Killer Whales, it is possible that we may stay out past the 8 hours, sometimes even until dark, on days with exceptional sightings or days where we may not find Orcas until later in the day. Since our crew are also Marine Biologists and researching the whales, they are just as keen and excited to find the whales as our passengers. Nancy often stays out later if we have great sightings and especially for Orcas so that we do not miss anything, whereas typical trips will have to arrive back to the Harbor with time limits. Although we generally stay out 8 hours, the trips are open-ended and have given people on occasion the most amazing experience of their lives. It's also important to know that weather can affect us and of course we have no control over that. We generally do not have to cancel trips due to weather. In the Spring the mornings are generally calmer and the wind tends to pick up in the afternoon. It is fairly common to have NW winds in the afternoon which sometimes force us to go back to the Harbor earlier than 8 hours for everyone's comfort. However if we have some great sightings during windy days we do our best to stay with the animals as long as possible. In fact, on windy days, Humpback Whales tend to be more active and definitely breach more often under windy and choppy seas than under calm conditions, one of the benefits of higher winds and seas. This is nature and every day cannot be the best ever but our crew will go to the greatest extent possible to see the most we can on any given day.
So please do NOT book any dinner reservations, flights, etc. on the evening of your All Day Whale Watch trip!

Our main vessel used on these trips is the Pt. Sur Clipper, the same vessel we use when working with film crews such as National Geographic and BBC. The boat is close enough to the water for photographers to get a low angle and feel close to the whales, and it's a heavy boat that does great under rougher sea conditions.
If you have mobility issues, please contact our shop prior to making a reservation to go over your options.


All Day trips will be an adventure within Monterey Bay; we may end up on the open ocean, or even off the coast of Carmel and Big Sur - offering spectacular views of California's Central Coast. Departing from Monterey is the prime location for whale watching anywhere in Monterey Bay. If we get reports of whales ahead of time, we can reach any area of the Bay within a reasonable amount of time. Some hot spots where Orcas frequent and predation events occur include south near Carmel Bay/Pt Lobos where the Canyon approaches very near shore, towards the north to the head of the Canyon west of the PGE stacks/ Moss Landing, and northwest of Monterey along the south Canyon edge called the "honey hole".

We "guarantee" whale sightings, however we cannot guarantee Orcas due to their natural roaming behavior, but sightings of Orcas are highest in the Spring. At this time of year it is possible to see Killer Whales, Gray Whales, Humpback Whales, possibly Blue Whales depending on presence of krill which varies annually, and several species of dolphins. However, since we are focusing on Killer Whales, we want to optimize the time we spend on the ocean searching for Killer Whales; if we find them, we hope to observe them as long as we can as that increases our chances of observing predation behavior, social behavior, and sometimes their curiousity towards our vessel. Watching curious whales under their own choice just feet from our vessel is a life-changing event for many people. Of course these behaviors do not happen each time we find Orcas; the longer we spend with them, the better our chances. They may spend a good amount of time travelling or resting as well. We always maintain a distance, respect the whales and do not drive up right next them, as we never would disrupt their natural behaviors. We travel the same course and speed, and do not rapidly approach them, which allows for the best sightings and sometimes we get rewarded with the whales "watching us", bringing their prey to the boat and basically "showing off" next to our vessel. We named one family group in particular, the "friendly pod" as this group is often curious to vessels more often than other groups. Our captain, Nancy – Marine Biologist and Killer Whale researcher with 30 years of experience – is well known for her ability to find and follow the whales, by knowing their behavior patterns and travel routes well.
Whale enthusiasts, experienced whale watchers, photographers, or first timers (bucket listers) who have never seen a whale before and want to make sure they not only see them but see them well will enjoy these extended unrushed trips. This trip provides the ultimate chance to see as much as possible on any given day based on what animals are around on that particular day. This is a trip that only our company offers due to our years of experience, knowledge about all marine life, and of individual whales and their families, spotting ability, dedication and enthusiasm!
If you have the time, we recommend that you consider joining us for multiple days. We have scheduled these trips to maximize your chances of seeing Killer Whales during the peak encounter period for them in Monterey Bay, but they are generally not here every day. Also, even if you do see them several days in a row, each day will provide you with possibly different whale families, numbers, and behaviors. Many of the people who come out on our all day trips keep coming back for more; Monterey Bay Whale Watch hosts a high number of repeat customers and locals year round. Please join us and become a part of our community of whale enthusiasts!

We will send you a trip confirmation after you sign up, which will include information on trip preparation, such as warm clothes, food info, seasick prevention tips, and directions. The trip price will include a variety of snack foods and drinks. However, you should bring any more substantial lunch or any other food you want, as we could be out longer than 8 hours for exceptional sightings.
Examples - Summaries of Selected Killer Whale Season All Day Trips in Previous Years:

April 20, 2017: 33 Killer Whales, 20 Humpback Whales, 2000 Pacific White-sided Dolphins, 50 Northern Right Whale Dolphins
1st Gray Whale calf; already dead
Today there were over 30 Killer Whales including Emma's family with her new grandbaby! Emma has been involved in almost every attack on Gray Whales, and her mom was involved in hunting Gray Whales before her. Today we observed them feeding on a fresh carcass of a baby Gray Whale that they likely caught early this morning because so many whales are here on scene, with several more arriving for the feast. We also observed Humpbacks interfering with the Killer Whales: although the calf is long deceased, the Humpbacks often intervene during attacks and even afterward like today, which may be evidence of interspecific altruism! Check out our paper with Robert Pitman - "Humpback whales interfering when mammal-eating killer whales attack other species: Mobbing behavior and interspecific altruism?"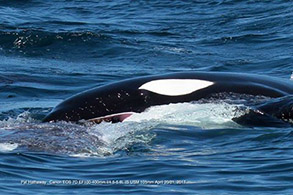 April 21, 2017: 31 Killer Whales, 10 Humpback Whales
1st Gray Whale calf; Killer Whales still feeding about 1 mile from original site
We started our day returning to the site where we found the Killer Whales feeding yesterday, and from the roof of our boat Katie spotted the Killer Whales feeding about a mile away! In the night the ocean currents or the whales themselves dragged the carcass about a mile away, but Emma's group was still feeding on the carcass today.
April 22, 2017: 17 Killer Whales, 8 Humpback Whales
2nd Gray Whale calf; already dead
The same Killer Whales were seen again today feeding on a second Gray Whale calf carcass! At first we thought this may have been the same carcass, but after observing the carcass (mostly whole) it became evident that this is a new calf likely found last night.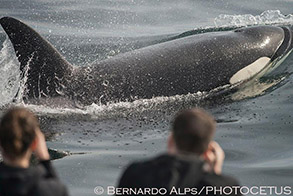 April 24, 2017: 13 Killer Whales, 14 Humpback Whales, 200 Long-beaked Common Dolphins
3rd Gray Whale calf; attack observed. Humpbacks interfering withKiller Whales feeding on carcass
We received a report that Killer Whales were attacking another Gray Whale mom and calf, and they were so efficient that they were able to kill the calf before our All Day Trip's vessel arrived on scene! However, we were still able to observe some amazing interactions as the Killer Whales were feeding and Humpback Whales expressed their displeasure with trumpet blows! We have seen this behavior before where Humpbacks appear to have interspecific altruism and interfere with Killer Whales hunting and feeding even on other species (link to article again), interfering with Killer Whales attacking and feeding on other species. Adult Humpback Whales don't have anything to worry about, but they can be targeted by Killer Whales as calves


April 29, 2017: 25 Killer Whales, 3 Humpback Whales
5th Gray Whale calf; attack observed
We found Emma and her family of Killer Whales early on today, but after we were observing their relaxed milling behavior, they suddenly started leaping out of the water porpoising full speed northwest, and other vessels watching other Killer Whales watched them change their behavior similarly. After racing with the Killer Whales for almost 10 miles we arrived on scene at another Gray Whale calf that had just been killed! It's likely that the second the hunt was on the alarm was sounded as all the Killer Whales converged on scene. What was most fascinating was that after Emma arrived, the other 30+ Killer Whales that had been seen in the area by other vessels dispersed, and Emma's group fed on the calf (that they definitely did not kill) alone! Not only that, but we had several friendly approaches, especially from Emma's grandkids: they both also did surface vocalizations! Today was the most amazing day yet, and racing with the whales was the highlight of a lifetime for many of us on board!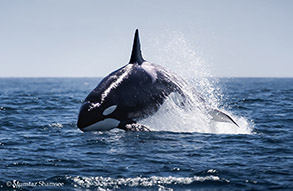 April 30, 2017: 13 Killer Whales, 2 Gray Whales, 1 Blue Whale, 27 Humpback Whales, 50 Long-beaked Common Dolphins
6th Gray Whale calf; attack observed; calf survived!

Just when we thought it couldn't get better, it did! After observing Humpback Whales, a Blue Whale, and dolphins, we got another report of a current Gray Whale attack in action! We arrived on scene to see the sixth Gray Whale calf being attacked by Killer Whales in eleven days. The mother Gray Whale was desperately holding her calf at the surface, and before long the splashing and action seemed to subside and we thought it was all over. But when we put our drone in the air to observe from above we realized that when we thought the calf was dead, the calf and its mother had actually been left alone! The Killer Whales abandoned the hunt and let this one go! We are unsure why they let this one get away, but possibly it's because they were headed into shallower water where it would be harder for them to drown the calf, or maybe it's just because they have already eaten five other calves!





---

The photos below were all taken in April and May in previous years.

Killer Whale


Humpback Whale breaching


Blue Whale


Risso's Dolphins


Northern Fur Seal




Humpback Whale tail throw

Southern Sea Otters Mom and Pup

Killer Whales

Black-footed Albatross

Pacific White-sided Dolphin